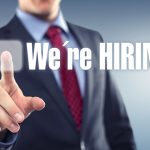 Website Josepdam Port Service
Josepdam Port Service is located on the South-Eastern edge of Tincan Island
Josepdam Port Service is located on the South-Eastern edge of Tincan Island. Located 6*25 North 3*213′ East. The Lagos port main interland comprises the South Western States in particular; Lagos, Ogun, Osun and Oyo States. Further inland, the Central and Northern State are more or less equidistant to either Lagos Port or Eastern Ports, in particular Port Harcourt / Onne.
We are recruiting diligent and experienced individuals to join our team in the position below:
Job Title: Tally Clerk
Location: Lagos
Employment Type: Full-time
Job Summary
The successful candidates will be solely responsible for examining, counting and recording both incoming and outing cargoes from the terminal and also calculating the storage, damage, shipping and receiving fees.
Education & Experience
A minimum of OND / NCE in Statistics / Accounting / Business / Management studies preferable or a similar discipline
A minimum of 2 years working experience in Cargo Tally Operations or any other relevant similar role
Required Skills:
Physically fit, energetic to lift, stretch or stand for long and no phobia for height
Basic knowledge of written and spoken English
Proficient in Micro soft office suites
Ability to work well individually and in a team.
Detail oriented with sound mathematical numerical aptitude to processes large numbers of daily cargoes
Basic knowledge of port operations, understanding port safety regulations and procedures Understand commonly used hand signs to communicate without radio system
How to Apply
Interested and qualified candidates should send their Applications and Curriculum Vitae in PDF Format, as an attachment to the email address indicated under the apply button using the Job Title as the subject of the mail.
Note: Only shortlisted candidates will be contacted for interview
Application Deadline  27th September, 2022.