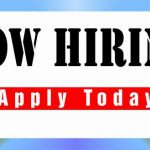 Website Federal Ministry of Agriculture & Rural Development
Primarily funded by the Federal Government, the Ministry currently superintends almost fifty parastatals operating as either key departments or agencies across the country
Primarily funded by the Federal Government, the Ministry currently superintends almost fifty parastatals operating as either key departments or agencies across the country.
National Programme Coordinator (NPC)
Location: Abuja
Details of the Contract: The NPC position is a Contract Appointment for a period of Two (2) year in the first instance, renewal subject to satisfactory performance acceptable to FGN and IFAD
Background
The Federal Government of Nigeria (FGN) is implementing a three-year IFAD assisted Value Chain Development Programme Additional Financing (VCDP AF1), as a follow-up to the successful six (6) – year Value Chain Development Programme (VCDP), in nine (9) participating states (Anambra, Benue, Ebonyi, Enugu, Kogi, Nasarawa, Taraba, Niger and Ogun).
The Programme's goal is: "Rural Poverty reduced, food security increased and accelerated economic growth achieved." The VCDP, which was approved for an IFAD loan of USD74.4 million in 2012, aimed to directly improve the livelihood of approximately 17,480 households (15,000 smallholder farmers, 1,680 processors and 800 traders) and to benefit indirectly approximately 22,000 households.
In 2018, IFAD approved an Additional Financing (AF1) of USD 89.1 million to:

Expand VCDP activities to three (3) new states-Enugu, Kogi and Nasarawa – and to a total of 57 Local Goverment Areas (LGAs) from 30 LGAs at the Mid-term Review (MTR) of VCDP, in the entire nine states; and
Support the mainstreaming of issues that were not considered at the design of VCDP, consistent with national and IFAD policies; climate-smart agricultural practices; conflict mitigation as the conflict increases between farmers and herdsmen for land resources: nutrition and financial inclusion.

The VCDP-AF1 focuses on enhancing the productivities and profitability of smallholder farmers (who cultivate not more than 5ha of land under rice/cassava) and mall/medium-scale agro-processors (with processing capacity of an average of 2MT/day for cassava and 4MT/day for rice) by improving their access to markets, and capacity to increase yield as well as add value to locally produced raw materials through improved processing and packaging.
The programme is being implemented through three mutually reinforcing components; Agricultural Market Development, Smallholder Productivity Enhancement and Programme Management and Coordination.
Job Summary
The National Programme Coordinator (NPC) will be responsible for the overall management and implementation of the Agricultural Value Chain Development Programme.
Main Responsibilities
The National Project Coordinator (NPC) will be responsible for overall coordination, management and implementation of FGN / IFAD-VCDP in nine (9) participating states.
A key element of the position will be to ensure that the programme achieves its development objectives and outcomes.
The NPC will report directly to the Director, Projects Coordinating Unit (PCU) of the Federal Ministry of Agriculture and Rural Development (FMARD)
Specific Duties
Day to day technical and administrative leadership and coordination support to the programme
Head the Secretariat of the National Steering Committee (NSC)
Promote team work of specialists and other programme staff at the states and national office for effective programme implementation.
Coordinate and supervise programme implementation by the participating states
Convene management meeting at NPMU as well as quarterly technical review involving SPMUs
Manage and motivate programme staff to ensure discipline and enhanced programme performance
Coordinate preparation of Annual Work Plan and Budget (AWPB) and submit same to the National Steering Committee (NSC) and the IFAD Country Office for approval through the Director, Projects Coordination Unit (PCU).
Ensure timely delivery of quality reports (AWPB, semiannual reports, financial statements, audit reports to FMARD through PCU and IFAD Country Office
Coordinate supervision mission and ensure the implementation of missions recommendations.
Select and engage Service Providers where necessary and formulate ToRs and scope of work for the service providers, supervise, monitor and certify the work of the service providers for various activities and assignments.
Undertake any other responsibility as may be assigned by the Director, Project Coordinating Unit (PCU) and IFAD Country Office, Abuja.
Reporting and Location:
The position will be based in the NPMU office located in Abuja.
The NPC will report directly to Director, Projects Coordinating Unit (PCU), FMARD and IFAD Country Office, Abuja.
Qualifications and Work Experience
Master's Degree in any of the following disciplines:

Agriculture and related fields,
Social and Management Sciences

A minimum of 15 years post qualification working experience out of which at least five (5) years must be at senior management level in public / private sectors
Must have working knowledge of Donor Funded projects
Good writing skills and Computer literacy
Good Communication and Team building skills.
How to apply
Interested and qualified candidates should send their Expression of Interest (EOl) in ten (10) copies including one original and nine photocopies, properly sealed and clearly marked at the top right-hand cover "Expression of Interest (EOI) for the Recruitment of Officers under FGN / IFAD-VCDP project." Each envelope should include a CV and an Application Letter with Cover Letter suited for the position being applied for.
The sealed envelope should be addressed and delivered to:
The Permanent Secretary,
Federal Ministry of Agriculture and Rural Development,
C / O Director, Projects Coordinating Unit (PCU),
No.1, Eldoret Close, Off Aminu Kano Crescent,
Wuse II – Abuja.
Note: Qualified and experienced women are encouraged to apply.