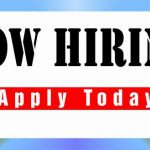 Website Paykobo
Paykobo.com is one of Nigerian's biggest ecommerce technology company that provides businesses from small to large enterprises, retail, government agencies, and other organizations with integrated software and high quality hardware so they can run more efficiently at an unbeatable price
Paykobo.com is one of Nigerian's biggest ecommerce technology company that provides businesses from small to large enterprises, retail, government agencies, and other organizations with integrated software and high quality hardware so they can run more efficiently at an unbeatable price.
Job Title: Human Resources Officer
You will work closely with the Human Resources Manager to manage the HR activities. You will perform tasks and services to support the effective and efficient operations of the human resource department.
Requirements
Bachelor's Degree in relevant fields
Hands on experience working with MS Office, and HR software (HRIS or HRMS)
A minimum of 3 years working experience in human resources management
Good knowledge of  labour laws and other relevant regulations
High ethical standards and ability to exhibit a high level of confidentiality
Excellent verbal and written communication skills.
Excellent interpersonal skills with the ability to manage sensitive and confidential situations with tact, professionalism, and diplomacy.
Excellent attention to detail and problem solving skills