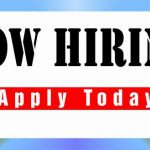 Website Libra Motors Limited
Libra Motors Ltd is a transportation company that is into, Inter/Intra-City Mass Transit, Commuter Insurance Manifest Scheme, Bus Hire, and parcel services
Libra Motors Ltd is a transportation company that is into, Inter/Intra-City Mass Transit, Commuter Insurance Manifest Scheme, Bus Hire, and parcel services.
Job Title: Customer Service Personnel (Corp Member – NYSC)
Job Description
Help customers with complaints and questions, give customers information about products and services, take orders, and process returns
Only corp member who resides around Okota, Ejigbo, Ijesha or its environment that should apply!
Requirement
Candidates should possess a Bachelor's Degree / HND qualification.
How to apply
Interested and qualified candidates should send their CV to the email address indicated under the apply button and using the Job Title as the subject of the email.
Note: Interested Corp members looking PPA should apply.