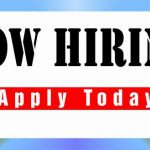 Website FortunEdge Systems
We are a Premium, established and trusted provider of information security and infrastructure solutions across Nigeria with offices within the major cities
FortunEdge Systems – We are a Premium, established and trusted provider of information security and infrastructure solutions across Nigeria with offices within the major cities.
We are recruiting to fill the position below:
Job Title: Administrative Officer
Location: Lagos, Nigeria
Employment Type: Full-time
Responsibilities
Organizing and managing schedules and calendars for staff, managers, and senior-level officers
Receiving and processing communication channels, including email, phone, and physical mail
Ensure functionality of necessary office equipment, and requisitioning new equipment and supplies as needed
Creating reports and memos for managers and senior-level officers as needed
Offer assistance in organizing events, including ordering materials and requisitioning meeting spaces
Attend meetings and record notes and messages for managers and senior-level officers
Assisting human resources department with payroll and personnel databases
Conferring with accounting department to help make payments, process incoming invoices, and verify receipts
Requirement
Minimum 2 – 3 years work experience.
Salary
N75,000 – N120,000 monthly.
How to Apply
Interested and qualified candidates should send their CV to: hr@fortunedgesystems.com.ng using the "Job Title" as the subject of the email
Application Deadline  2nd October, 2020.