Full Time
Applications have closed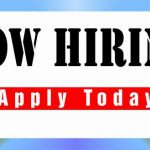 Website Ascentech Services Ltd
We cater for the needs of a range of professionals seeking employment and work together to create effective solutions using our networks and strong client base
Ascentech Services Ltd acts as a gateway to provide a wide range of recruitment and selection services to companies. We are a dedicated team of professional consultants offering top-of-the-line executive recruitment and selection services. We cater for the needs of a range of professionals seeking employment and work together to create effective solutions using our networks and strong client base.
Administrative Assistant
Job Brief
We are looking for an Administrative Assistant to join our team and support our daily office procedures.
A successful Administrative Assistant will act as the point of contact for all employees, providing administrative support and managing their queries.
Main duties include managing office stock, preparing regular reports (e.g. expenses and office budgets) and organizing company records.
Job Responsibilities
Manage office supplies stock and place orders
Prepare regular reports on expenses and office budgets
Maintain and update company databases
Organize a filing system for important and confidential company documents
Answer queries by employees and clients
Update office policies as needed
Maintain a company calendar and schedule appointments
Book meeting rooms as required
Distribute and store correspondence (e.g. letters, emails and packages)
Prepare reports and presentations with statistical data, as assigned
Arrange travel and accommodations
Schedule in-house and external events
Job Requirements and Skills
HND / B.Sc in a relevant field
Minimum of 1 year experience as an Administrative Assistance or similar role
Solid knowledge of office procedures
Experience with office management software like MS Office (MS Excel, MS Word and Power pointspecifically)
Strong organization skills with a problem-solving attitude
Excellent written and verbal communication skills
Attention to detail.
Note:
Do not pay for any job position
Do not pay for any job training
Do not give away anything of monetary value
Authentic jobs do not ask for money from candidates